triANGLE INVESTOR
Uranium Report -Wednesday May 10, 2023
Greetings dear friends,
after yesterday's strong day for #uranium stocks, we witnessed a slight pullback today on TSX and NYSE resulting in a mixed close for uranium stocks. As I stated before, I am of the opinion that we have entered a period of recovery and that there are many more days like yesterday ahead of us. As for the news about uranium today, there was not much of it. On the markets, major indices ended positively due to slightly lower-than-expected increase in April inflation that raised hopes that the Federal Reserve's interest rate hiking cycle is close to an end.
Let's hope so!
As for my buying of uranium shares in the recent period, I believe that I played well this (long) pullback round by increasing my position in Global Atomic, Encore, Goviex and Ur Energy with the "taking profit funds" from the portion
sale of Strahmore and F3 Uranium shares.
My focus is still on developers and producers but I have 4-5 names on my radar among explorers. More on that soon. This is my current top 5 #uranium holdings.
MARKET DATA
📝 US/CANADA URANIUM STOCKS PERFORMANCE
Out of the 76 #uranium / #nuclearenergy related stocks listed in #Canada and #US
21 finished in green territory,
29 stocks flat
26 stocks finished in red territory.
The winner of the day is Medaro Mining with 30.00% gain and looser of the day is Red Lake with 30.00% loss.
📝 AUSTRALIA URANIUM STOCKS PERFORMANCE
Out of the 41 #uranium / #nuclearenergy related #stocks listed in #Australia,
27 finished in green territory,
9 stocks flat ,
5 stocks finished in red territory.
The winner of the day is Terra Uranium with 19.05% gain and looser of the day Toro Energy with 8.33% loss.
INDUSTRY NEWS
📝 Private power generation company GS Energy has signed a memorandum of understanding (MoU) with Uljin County in North Gyeongsang Province, South Korea, to consider the use of NuScale Power's small modular reactor (SMR) technology to provide heat and power to the planned Uljin Nuclear Hydrogen National Industrial Complex.
📝 The US Nuclear Regulatory Commission (NRC) has issued the final licence to Holtec International to build and operate the Hi-STORE consolidated interim storage facility (CISF) for used #nuclear fuel in New Mexico.
📝There is widespread public support for advanced nuclear #energy #technologies, according to a new, multinational survey of attitudes toward #nuclear energy. The report is a collaborative effort by the non-governmental organisations ClearPath, Third Way, Potential Energy Coalition and RePlanet.
source: www.world-nuclear-news.org
COMPANY NEWS
📝 Traction Uranium and Forum Energy Metals Commence Airborne Geophysical Survey on the Grease River Project, #AthabascaBasin
Traction Uranium announced today they have commenced an airborne magnetic, electromagnetic (EM) and radiometric survey on Forum's 100%-owned Grease River Project, located along the north rim of the Athabasca Basin, Saskatchewan. The helicopter-borne survey will be conducted using a New Resolution Geophysics specially designed Xcite™ Time Domain Electromagnetic System. The 1,290 line-km survey will be conducted at a 100 metre line spacing over the entire Grease River claims totaling 10,528 hectares along the Grease River Shear Zone
📝 CAT Receives NI 43–101 Technical Report on the South Preston Uranium Project & Provides Project Update
NI 43-101 Report Highlights:
CAT's South Preston Property encompasses several uranium geochemical anomalies associated with graphite-type conductors and similar in strength to those associated with other unconformity-type deposits in the Athabasca Basin, known to be the highest-grade uranium deposits
Azincourt's prospective zones targeted for drilling are trending directly onto CAT's adjacent exploration property; 2023 drilling results are pending
Field work demonstrates that the Athabasca sandstone has limited exposure on the CAT property, thereby eliminating the need to drill targets through substantial thicknesses of cover rock
CAT's current NI 43-101 report recommendations include extending its airborne VTEM coverage and further bio-geochemical sampling and mapping
INTERESTING TWEETS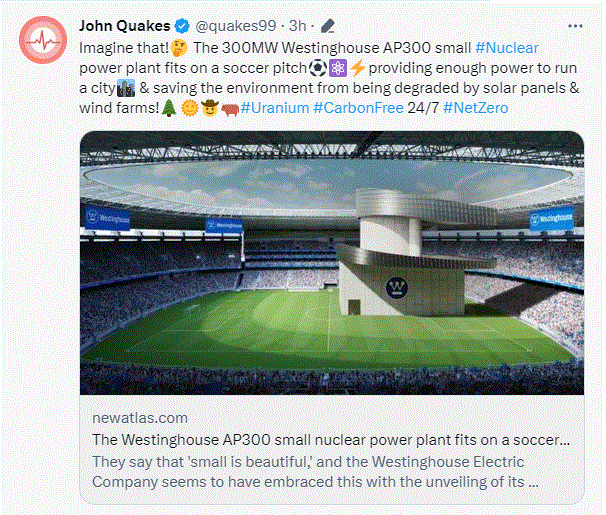 Thank you for your attention.
triANGLE INVESTOR
IMPORTANT DISCLAIMER: None of this content is a financial advice of any kind or solicitation to buy or sell any equities or other financial products. This blog/newsletter is only for educational and/or entertainment purposes. Do your own deep research before making any financial decisions.I may own stocks mentioned in this content.